Rapper Lil Wayne said on Friday he was fine and thanked fans for their concern after a reported seizure that led celebrity website TMZ.com to claim he was in a medically induced coma and near death.
"I'm good everybody. Thx for the prayers and love," Wayne said in a Twitter message on his official account.
Spokeswoman Sarah Cunningham said in an email that "Lil Wayne is recovering," but no inclination was given as to what he was suffering from.
Rapper Mack Maine twitted also confirming that Wayne was "alive and well. We watching the Syracuse (basketball) game…thanks for the prayers and concern." Mack Maine also added that fans should not "believe the nonsense about comas and tubes to breathe."
TMZ said the rapper was admitted to Cedars-Sinai for seizures and released on Wednesday. But the website said he was readmitted a few hours later after his bodyguard found him unconscious on the floor of his room. It said his mother was flying to Los Angeles on Friday to be at his bedside.
Wayne, whose real name is Dwayne Michael Carter Jr., began rapping at the age of nine, when he became the youngest artist to be signed by Cash Money record label and has released nine studio albums over a two decade career and has become one of the biggest names in rap music.
________________________________________________________________________________________________________________
SHYSTIE FT AZEALIA BANKS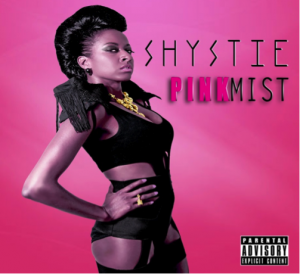 'CONTROL IT'
SHYSTIE's NEW RELEASE INTERJECTED BY INTERSCOPE
The familiar tale of the Major Label vs the Independent artist rears its ugly head in the latest argument between Uk music artist Shystie and Interscope Records.
UK female emcee Shystie is independently taking on Interscope as they stepped in to stop the release of her new track 'Control It' featuring U.S artist Azealia Banks. The two female stars have enjoyed a successful friendship having been introduced on Twitter and consequently featuring on each other's tracks. Azealia Banks recorded 'Control It' with Shystie and the controversial new video was shot in late 2012 with full co-operation and agreement from everyone involved. However it seems that the power of the major label is being used to dominate the plans and the success of the independent artist as Interscope appear to have stepped in saying they want to stop the release going ahead, despite full support from Azealia's camp prior to the videos release on Sunday 03rd March via U.S site Billboard.com. Shystie, who has achieved a successful acting career playing lead roles in the Box Office smash 'Adulthood' and 'Kidulthood' and who recently featured in Vogue thanks to her appearance at London Fashion Week, has never been one to be backed in to a corner; let alone by a powerful corporation.
Check out the video for 'Control It' while it is still available!

The track 'Control it' is taken from Shystie's E.P 'PINK MIST'
Pre-order Pink Mist
https://itunes.apple.com/gb/album/pink-mist/id603590927
Remember where u heard it first!!!!!!!
________________________________________________________________________________________________________________
Interview With SHEA

Please introduce yourself and tell us a little bit about what you've released so far and other interesting stuff you think our readers would like to know!
My name is Shea, and I'm a singer/songwriter. My first release was as a featured artist with MJ Cole, we wrote & released 'Never Say Never Together', and I then went on to release more underground music as a featured artist with various producers such as Phil Asher, Guynamite, Funk Butcher and more. The most successful track I featured on was Attacca Pesante's 'Make it Funky for Me'.
So long have you been making music and what or who got you into music?
I've written songs since I was a kid. I would write about kinds of things, usually fun learning songs that I would sing to my younger siblings. As I got older, my writing progressed. Singing was always something that I wanted to do.
What was the first record you ever brought?
The first CD I remember buying was Jodeci. I wanted to have it as soon as it came out, and I knew I wouldn't be able to go into town to get it myself, so I made my mum promise to pick it up for me while I was at school. I was so excited when I came home to it. I took it to school the next day to show my friends.
So what's your main motivation to make music?
Just passion really. I'm not trying to change the world or anything. I just really enjoy singing and writing songs. I've been lucky enough to have many great experiences in my life, but nothing ever compares.
How would you briefly describe your next release to a first time listener?
I don't like to say too much about my songs. Everyone that listens to them has their own way of interpreting them, and that's something that really appeals to me. This song came together around a vocal and a drum beat. It's quite musical and live sounding, but to really get a feel for it, you'll have to listen!
If someone reading this had not heard of you before and only had time to listen to one track of yours which track would you play them and why?
My first solo single- Where Did You Go. My album is quite mixed musically and lyrically, but I feel this track really represents me as an artist. It's very vocal and live sounding, and I would say that although my other tracks have different styles, they all kind of branch out from this in some way.
If you weren't involved in the music industry what do you reckon you'd be doing instead?
I don't think I'd ever stop singing, even if I wasn't in the music industry. I love working with kids, so maybe I'd do something to do with that, perhaps combining the two.
What's your take on the UK scene at the moment?
I think there's a lot of great UK talent out there, but I think it's hard to get heard unless you're following some kind of unwritten rule to fit in with what's out there. I think the last few years have been tough on the UK scene, but I see a change coming, and I think there's space for everyone.
What's been your favourite release of this year so far?
I think my favourite track of 2012 has to be the Layabouts featuring Portia Monique- Do Better. This song has gotten me waking up, running faster, and changing my mood. I love it!
Success is a very broad word nowadays and it means different things to different people, but what's your definition of success?
To me, success is being given the freedom to do what you love to do. Circumstance can make it very tricky for us to do the things we love, whether it's finances, time, ability or anything really. When I'm able to do a full live tour with my album, I think I'll feel truly successful.
So what have you got planned for 2013?
Well, my first single 'Where Did You Go' is due out in February, and I'll also be releasing my album a bit further along the year. There'll be lots of live shows which I'm very excited about, and more tracks to come. Watch this space!
Do you have a website, if not what's your other website links?
Yep! You can find me at ThisisShea.com where all my connecting links will be to social media sites.
Before you go tell us something about yourself that no one knows (or might not know) lol!
I love prank shows! The ones where people go up to strangers and pretend to be nuts, or do things to make them jump or something. They literally have me in tears with laughter. I really admire gutsy funny people; I'm the complete opposite of that!
Thanks so much for taking the time out to do this exclusive interview for www.iamscrilla.com
Before you go is there anybody you'd like to shout out?
Yeah, I'd like to shout Billy Grant my manager, and everyone at my labels and management – 2Point9 and ThisIsArea7. Its great to be part of such an amazing team, and I never get around to thanking them enough.