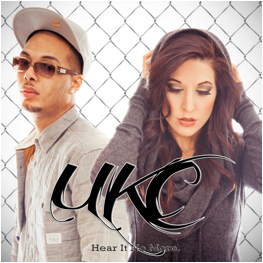 UKC are back and follow up their underground hit Worthless with "Hear It No More". After storming on to the scene in 2012, UKC quickly built up a supportive fan base which saw their music jump straight on to radio waves and being picked up by TV channels such as Kiss TV, Flava and AKA.
The contrast of the undeniably talented singer Pretty P, who has a background in classical training and R&B sessions, compliments D'Wire's Grime and Hip-Hop roots, creating an engaging and well-rounded sound unique
to UKC.
"Hear It No More" is the third single from the guys who are also getting their album ready to showcase to the world. The track sees the two fighting in a battle of love with D'Wire trying to win the love of his girl back in a tempestuous tail of romance………………………………………………………………
Hear it No More – Official Video

______________________________________________________________________________________________________________

Where Did You Go?
Released: 28/01/13
Where Did You Go¹ is the debut single from London based soul singer-songwriter Shea. Probably best known for her collaboration with Attacca Pesante on (Make It Funky For Me), one of the corner stones of the UK Funky scene, Shea is now stepping out on her own terms, using her breath-taking voice and wealth of experience to bring her unique style and song writing to a new wider audience. With a timeless sound encompassing contemporary themes of abandonment Shea's single brings together classic soul and jazz influences in a classy and heartfelt lament. Produced by Drew Horley (best known as the producer of Ty's Mercury Nominated album Upwards), Where Did You Go¹ (released 28th January 2013 on ThisIsArea7) evokes smoky jazz clubs, and puts a new twist on an era where double bass and snare brushes ruled the live circuit. It perfectly showcases one side of Shea¹s multifaceted, self-penned debut album, due for release in 2013. Shea (born Shea Bryce) was raised in Croydon, South London in circumstances that, by her own admission, were tricky. Growing up on a rundown council estate she was born to an English mother of Irish descent and Jamaican father who was essentially absent from her life from the word go. 'Where Did You Go'?, the first single to be released from her debut album, alludes to the emptyness left behind by broken relationships. Following a brief stint at the now ubiquitous Brit School, and an equally mismatched spell trying to form a R'n'B girl group, Shea realized she needed to make things happen on her own terms. In the last few years she has paid her dues on the live and club circuit, featuring on tracks for the likes of legendary UK Garage producer MJ Cole- she has also worked with some of the most credible underground UK talent ranging from Toddla T through to Shy FX. Her self-penned debut album Grey Skies & Rainbow Fingernails¹ is due for release in April 2013.
______________________________________________________________________________________________________________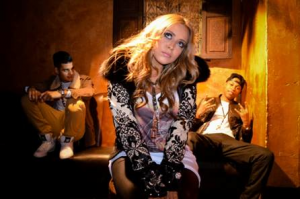 Take a look at sensational new group Hotwire. They have already been picked up by SBTV, MTV UK,FlavourMagazine, Urban Development, GRM Daily and loads more.
In the making for the last three years, Hotwire have developed in to an exciting and edgy super group with a catalogue of music ready to launch.
Soul and Mckoy hooked up back in 2004 and immediately found common ground in the form of music which they begun to experiment with and soon developed a real passion for. Sophie, a former school friend, was intrigued by the guys and their developments in music and suddenly found herself in the middle of the boys singing powerful hooks and learning to write lyrics of her own.
The band have written and produced a full album and already filmed two videos for tracks "Did You Know" & "Feel It". Brand new viral video ³Did You Know² has launched and follow up video ³Feel It² is due to hit TV screens in
late November. Look out for these guys who have got their plan in place to take the scene by storm for 2013!
Don¹t sleep on these guys!
Hotwire ­ Did You Know –
______________________________________________________________________________________________________________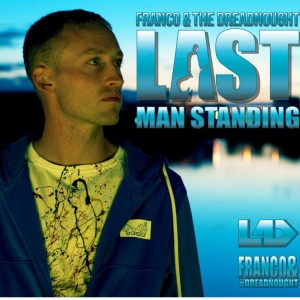 Live & Dangerous Records the label who brought you "Keri Greenaway Tell Me" are proud to present Franco & The Dreadnought's debut single – Last Man Standing?.Franco delivers an anthemic song with his instantly recognizable Mancunian vocals, a great groove and finger style guitar full of hooks, This is "Last Man Standing?. Franco and his trusty guitar, (a Martin) Dreadnought are a musical partnership that were made for each other. This track is without doubt one of the most memorable songs written this year. As well as writing and producing songs Franco has an amazing live act and has just played a packed summer of festivals and gigs all over the UK. Prior to his solo career Franco was signed to Universal with former band International One. Franco was asked personally by Desmond Tutu to write a song celebrating the life of Nelson
Mandela. The song, Inyaniso ("The Truth") was presented as a gift to the former South African President. Franco has the sentiment of Damien Rice while creating the same emotive impact as the arena rock of Oasis. Franco has real and raw delivery making him a great live performer and songwriter.
Franco & The Dreadnought Press Quotes
?Really Mellow and Heartfelt"… -Zane Lowe Radio 1 "Absolutely Awesome"… -Conrad Murray
XFM / SJM These are what DJs said about International One's Moonshine + Roses written
by Franco" (Zane Lowe / Conrad Murray, Radio Quotes)
Franco and the Dreadnought are quite simply, superb. From a small club in Camden, to the huge space of an arena, Franco will run the gamut of venues with ease. Precise musicianship, heartfelt lyrics and a cheeky grin, this is new talent at its very best…. you'll be hooked
(Shane Cary, Musicosis)
The quite simply beautiful ?Last Man Standing"by Franco and the Dreadnought. There's just no limit to the positive things to say about this song. It should be revered worldwide and appreciated by everyone.
Mick, (IndiePenDude.com)
?Last Man Standing? showcases a lot of what makes Franco stand out: a strong, emotive voice, beautiful harmonies, simple, strong songwriting, and a wonderfully atmospheric production
(Wasfuersohr.com)
He has a voice with sincerity and promise. Simply by listening to his music gives life a whole new eloquence. So rarely does an artist come along with this amount of depth. When he sings it comes from his soul Rebecca Hosking, (Skopemag.com)
_____________________________________________________________________________________________________________________________________________________________________________________________________________________________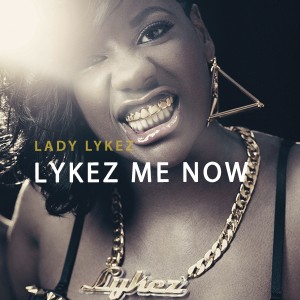 Introducing the brilliant Lady Lykez which I am sure you'll be aware of thanks to appearances at Reading Festival this year and support from BBC Introducing. Lady Lykez distinctive lyrical style, clever play on words and her innate ability to command the stage and captivate her audience makes her a force to be reckoned with. "Lykez Me Now" is the debut release from this fiesty female, and features a collection of 6 tracks. Standout track I.T. showcases Lykez lyrical wit as she plays on words cleverly using parts for sexual innuendos. After exploring a darker edgy side on "I'm A Producer" she follows on with "Not Your Hair" and the remix on which Lykez brings the cream of UK female mc talent on one track and joins forces with Leshurr, Lioness and Stush on the hilarious and female empowering take on hair weave and extensions. The E.P. signs off with the uplifiting "Sky's Not the Limit"
Production on the E.P. comes courtesy of John Hendicott (Chipmunk), Jamal Hardaway (Lethal Bizzle/Sway/Smiler) and Scratch DVA (Wiley/Tinnie Tempah/Scorcher)
Selected as a coverted BBC Introducing Artist, Lykez recently performed at Reading and Leds festival on the BBC Introducing stage. Watch out for Lykez in 2013 when her debut single "I Love My Butt" is released.
"Lykez Me Now" available to download on www.ladylykez.co.uk on the 12/12/12
________________________________________________________________________________________________________________________________________________________________________________________________________________________________
Featuring On Spotlight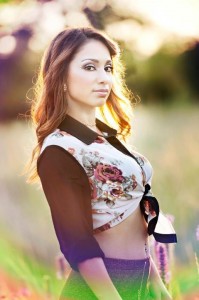 Kimberly Catherin Gonzalez was born on October 16 in East Los Angeles, California. She is known for Kim G. as her stage name and calls herself a Gypsy singer letting her music travel through different hearts, souls and all over this World in this generation. She grew up with the love and passion for music. Kim G. is Salvadorian, Guatemalan, Italian, Spaniard, and Indian descent and incorporates everything that she is in her style of music. At the age of four, she started writing her own lyrics. As her parents watched her and saw that she had a passion to sing, they bought her a keyboard and she would carry it everywhere she went for it was also her first toy. She would sit next to a stereo, make her own music with her keyboard and sing with the lyrics she wrote and would record on a cassette. Growing up in a Pentecostal church she would sing many songs in front of her church and many churches all over the United States including Tijuana, Mexico, Guatemala, and El Salvador. Her parents traveled a lot, and for that she loves traveling. She saw that music could change people's lives and knew that she had a gift that she needed to share with the World. Knowing that music is powerful and can change people's lives, her passion and love for music keeps growing. Growing up in LA she attended a Church, Fuente de Agua Viva where she formed a Spanish Christian Rock band named "Fortaleza." In High School, she joined choir and loved it. Her range consists of Alto and Soprano 1st and 2nd. After High School she knew that she wanted to keep pursuing music, and so she is now majoring in Music Business. Kim G. had thoughts of posting videos of her singing when she was 14 when she saw an internet site called YouTube where she would see people singing and showing others their talent. It was not until January 2011 when she posted her first video and had great responses and starting posting more videos of her singing or rapping. She goes by Kim G. Dollface on YouTube. Kim G. decided to incorporate the name Dollface because that was her nickname in Middle School. She now has over 58,000 total views of her videos and keeps posting and interacting with her friends, and supporters. On October 30, 2011 she released her first single "Reigning on You" and it has been a major success. It is a very special song for her because not only is it her first single but because when she was growing up her parents could not afford to take her to a studio to record professional songs. She calls it, "One of her biggest accomplishments!" She has so many more songs that she will share with the World and spread the love. Her genre has changed throughout the years going from Christian Rock leading her to a style she likes to call Retro-eccentric Jam with Glam. Kim G. was restricted to listen to other genres growing up other than "Christian Music" but she would always sneak other genres in her mp3 player or have one of her friends burn her CDs with other genres of music which she would have to hide from her parents. There are always two sides of the story and she lets you find out through her music. She is all about Glam, and is all about peace and love! She believes in the moon, sun, and stars and knows that everyone has the power to shine. She is a light among the World rising like a star. Follow Kim G. through her journey and take the journey with her! Jam with her, and Jam with Glam!!!
Social Network Links to KIM G
http://www.facebook.com/jamwithglam
http://www.youtube.com/user/kimcg37
https://twitter.com/jamwithglam
Download Links
http://itunes.apple.com/us/album/keep-it-real-treasure-single/id549308680
http://www.cdbaby.com/cd/kimg1
Kim G New Single – Keep it Real(Music Video)

Webmaster (iamscrilla.com)
PROMOTE your act/talent on Spotlight
If you have an act or talent you want to promote, why not get in touch with the Spotlight Admin Team –  info@iamscrilla.com
Spotlight – giving rising stars a platform online to shine!!!